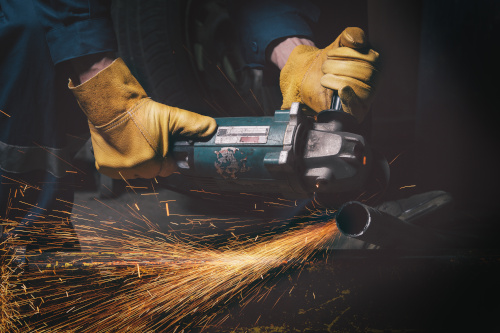 There is still debate over when a metal fabricator should own their own tools. No matter if you are an apprentice, a journeyman, or a master machinist, some tools are necessary for your success. Make sure your sheet metal fabrication shop has the list of tools below no matter its size.
Wire Cutters

- Handymen of all varieties could use a good set of wire cutters. Use these cutters in many projects, especially snipping frayed ends.


Throatless Shear

- Gain the ability to make curved, irregular, or straight cuts on metal with this tool. The tall handle on the throatless shear offers leverage to cut stainless steel or aluminum efficiently. Mount this tool with its standard three holes.


Angle Grinder Discs (Various)

- Look for a solid set of angle grinder discs that includes cutoff wheels, grinding wheels, and wire wheels. Include both super abrasives and conventional abrasives for your grinding wheels. If you plan on doing finishing projects, invest in flap discs as well.


Cleco Fasteners set

- Hold pieces of metal together before fusing them permanently. This fastener can hold several sheets of metal, acting as a heavy-duty clothespin.


Angle Grinder (4.5-inch or 6-inch)

- You can operate this power tool by hand to polish, cut, or grind metal. You will get a ton of use out of this tool, so make sure to get one strong enough to last.


Angle Finders

- Locate the correct angle for a cut with this stainless steel or top-quality aluminum. The average sheet metal fabricator gets heavy use out of this tool, so spend the extra cash to get a good one.


Auto-Darkening Helmet

- The next two tools will focus on safety. If you are welding, a good helmet will be your best friend. Expect to spend between $200 - $400 for a dependable helmet. Take it from us, spend the money - the safety of your eyes and face is worth it.


Cutting Glasses

- Constantly be aware of what is happening around you as sheet metal fabrication projects present the risk of accidents. The better your pair of cutting glasses, the lower your chance of getting hurt.


Drill Bits

- Do yourself a favor and get a personal set of drill bits. Start with a standard length drill bit and a machine screw drill bit then expand your collection as you see fit. Any good shop will have a drill, a drill press, or both.


A Work Backpack

- When you get your start in this field as an apprentice, help yourself get back and forth between work and home by storing your tools in a strong backpack. Once you are in a stable, trustworthy place, keep your tools at work.
With these tools in your collection, you can get through most projects. You might not have the cash on hand for super quality tools, but do what you can to get a good set. The right tool makes all the difference.
The JLM Contracting team is here to help residential homeowners and commercial businesses get the most out of sheet metal fabrication. If you want to work with us, give us a call at (586) 756-4133.