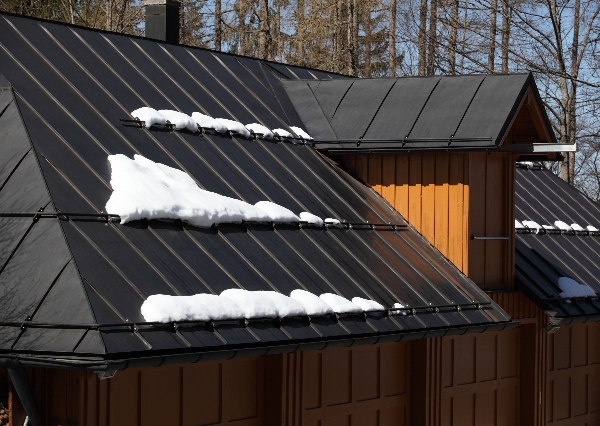 With the colder months rolling in, so too are the winter weather conditions. Prepping your home for the cold season is important to keep your property dry so you won't have to worry about costly repairs. Choosing a metal roof is a great option for home and business owners who want a cost-effective, durable material that can withstand the cold. Shingles go up on a roof easily, but they also wear out, crumble, and fall off a roof quicker as well.
Keep reading to get our top benefits of having a metal roof to protect your home or business.
1. Metal Roofing Keeps Your Home's Heat Inside
Heat escaping your house or property makes it less energy efficient. When you have the right metal roofing materials installed by experts, you can prevent some of the heat loss in winter. The changes in temperature will also have less of an impact on your attic when you have less condensation build-up happening.
2. Metal Roofs Help Kick Off Snow
Most roofing materials hold onto snow and ice. Metal roofs are different - they help remove ice and snow. Snow falling then going above freezing temperatures, then back below freezing can be dangerous. With a metal roof, the slick snow will slide off your roof when temperatures climb above freezing.
3. Metal Roofs Prevent Water Damage Inside Your Home
Metal roofs kicking off snow and ice can help stop water damage inside your home. This snow removal when temperatures climb can stop ice dams from forming. Ice dams on your roof lead to water gathering then trickling into your attic and your home. Proper installation with a professionally installed metal roof can stop this process.
4. Metal Roofs Can Be Installed During the Winter Season
Shingles can be a resilient material, but it is tougher to install when the weather gets cold. Metal has no such problems. Though your contractor will be a little more chilly and there may be the issue of weather, metal roof installations can go up even during the cold season. This news is good, especially if your roof probably won't make it through one more storm.
Get the Best Materials for Your Metal Roof, Even in Winter
Metal materials make for great roofs for all seasons and weather conditions. Have you considered having a metal roof installed on your home? Now is the time to make it happen! The professionals at JML Sheet Metal fabricate and install your new metal roof, even during the winter. Give our team a call today to chat through your needs.