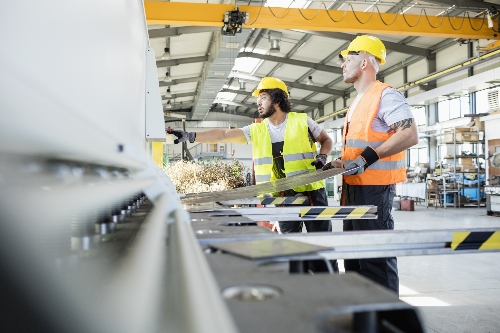 Sheet metal fabrication provides the crafted and treated materials that surround you. From roofing and siding to ventilators and gutters, sheet metal helps your home or company property stays protected. This process is not new. No, sheet metal fabrication can trace its roots back in Ancient Eygptian and even prehistoric times.
Let's run through some of the most interesting historical highlights of sheet metal fabrication from then until now.
1400 - 1700: The Early Years of Sheet Metal History
1485 - Leonardo da Vinci, the inventor, sketches a rolling mill - used to decrease the width and increase the hardness of a metal.
About 1500 - Two reports or rolling mills being used. People used one to create gold coins of similar size. They used the other to make strips of sheets.
1590 - People use the rolling mill to press metal together, changing the thickness of the pieces.
1615 - Lead and tin plates begin coming out of industrial plants.
1682 - England has a cold rolling mill.
1700 - 1900: The Industrial Age Changes Sheet Metal Fabrication
1700 - Hydronics-based systems, used in central heating, research begins in Russia.
About 1715 - Cast iron production begins. Now people can create complex shapes, including rails, round, and square.
1760 - The Industrial Revolution brought big changes. The assembly line and press brake brought new opportunities for workers to mass-produce high-quality parts.
1770 - The hydraulic press developed by Joseph Bramah.
1800 - The Iron Era ends with the invention of aluminum and steam hammers.
1857 - Steel production becomes quick and inexpensive with the Bessemer converter.
1861 - Unions merge to form the General Union of Braziers and Sheet Metal Workers.
1900 - Today: Modern Sheet Metal Fabrication
1959 - The unions merge again, now forming the National Union of Sheet Metal Workers and Coppersmiths.
1960 - The Bessemer converter gets replaced by the Basic Oxygen Furnace.
1970 - Air bending becomes more mainstream. The process takes less force and uses smaller tools than older methods.
2011 - The sheet metal industry grows to 4400 shops in the U.S.
Sheet Metal Fabrication has been a long time in development. This industry continues to grow, adapt, and refine its process to offer better techniques, more complex tools and components, and quicker turnaround time. JML Sheet Metal is here to provide the materials and even the installation of sheet metal for your home or business. Check out more of our resources or give us a call today to see how we can help you.