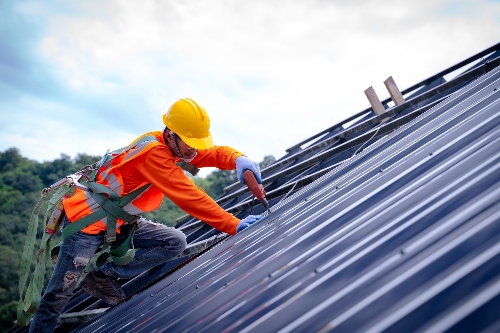 The more people involved and steps in a project, the more chances it has to fail.
Commercial roofing projects are no different. The fewer subcontractors, different crews, and steps involved, the smoother the entire project will run. Companies can make the process less complicated by completing the project more quickly, how cost-effectively they work, and how communicative they are with outside vendors.
Here at JML Sheet Metal, we found an easier way: in-house footing sheet metal fabrication and installation. Keep reading to learn about the benefits of our process.
1. Less Chance to Fail
By cutting out subcontractors, vendors, and outside commercial roofing companies, companies that fabricate and install their own sheet metal materials simplify a project. With an in-house company, you get less miscommunication and mistakes due to one point of contact. From the initial call to having a crew above your house installing your roof, an in-house team will make your life easier.
2. Projects Get Done Faster
Outsourcing the production of materials or the sheet metal roof installation adds time. The project comes to a standstill when a third-party needs more time. Companies with in-house production and installation teams streamline their process, so projects get done on time. In-house sheet metal fabricators and installers will work with you to set up a schedule that works, giving you more control over the project at your home.
3. Better Efficiency with Customization
One of the best aspects of using sheet metal for your roofing material is the customization options you can get. When you work with an in-house company, you can get these options directly from the source of the changes. Simplify the project and get rid of miscommunication when you work directly with the fabricator.
4. Smaller Budget Projects are Possible
Outsourcing can end up being more money for the consumer. If your roofing company outsources the sheet metal fabrication, there may be additional costs they will then pass along to you. When a company fabricates its sheet metal in-house, there are no additional fees.
Choosing the Right Team for In-House Sheet Metal Roofing Fabrication and Installation
Commercial sheet metal roofing projects are complicated, but they don't need to be. Working with a company that has roofing installers and sheet metal fabricators on staff will help you cut costs and get your project done more quickly. Get all the sheet metal advantages for your business or home by working with JML Sheet Metal. Our in-house fabrication and installation teams will ensure your project gets done as quickly and easily for you as possible.