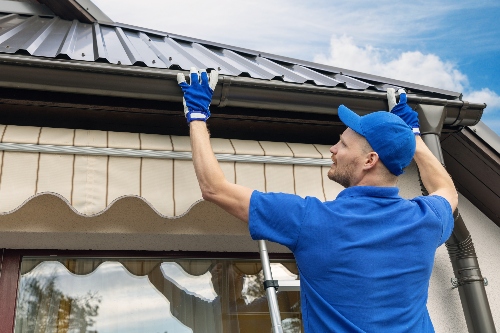 Spring is out of the way and now we are into the summer storm season. The light sprinkling of spring has been replaced with the thunderstorms that are all too common during the warm weather months. An important factor in keeping your home protected from summer storms and the buckets of rain they bring is having solid gutters to catch it all.
Are you in the market for new gutters? Great!
The next step is to vet your installation crew to get the best quality performance from your new gutters. Follow our interview questions below to make sure you have chosen the best company for your gutter installation.
1. Do You Install "Seamless" Gutters?
There are many types of gutters. Some fit together more easily than others. Seams create gaps where water can leak through. Gutters achieve a "seamless" status when the installer has them connected continuously from one corner to the next. "Seamless" gutters will only have breaks at the corners.
2. For the Corners, What Seams Does Your Company Use?
The fewer the seams, the lower your risk is for leaks. Let's go over three common types of corner seams:
Box Miter - A corner seam that joins three pieces in each corner. Used mainly for its low cost and availability to unskilled laborers.
Strip Miter - A corner seam that uses a thin strip of aluminum to hold two pieces together. This type is a less expensive one to produce.
Custom Hand Mitered - Skilled gutter installers create this type. Custom Hand Mitered corner pieces only have one seam. This piece fits into corners more snuggly and will stay there longer than others.
3. What Do You Use to Attach the Gutters to My Home?
There are two options for attaching gutters to a given building: nails or screws. Let's look at each:
Nails - Using nails is the old school style. A nail goes through the outside of the gutter then attaches to the fascia board and rafter. Nails have their limits. Over time, nails will pull out caused by the water weight in the gutter. When the nails get pulled out, your gutter will sag and fall away from your home.
Screws - Screws are a better bet due to not pulling out or corroding like nails. Your gutter installer should use 2 ¾" screws to connect your gutter to your home. Make sure the screws are the long ones so they can go through the fascia board all the way into the rafter.
4. Are Aluminum or Galvanized Gutters Better?
Aluminum: This is what the industry experts use. It is strong and easy to work with. This type of material won't corrode over time!
Galvanized: Until the 1980s, this was the go-to material. Galvanized is malleable but corrodes easily.
5. What is Your Policy on Job Site Cleanup?
Your home is your sanctuary. You are paying professionals to do a job, so you shouldn't have to clean up after them. The only change about your property should be your brand new gutters.
6. Does Your Company Have any Complaints?
The Better Business Bureau (BBB) is your friend. If a company isn't registered there, don't bother working with them. Just call (248) 223-9400 to check in with the local office on their business practices and if there are any registered complaints.
Choose a Gutter Installation Crew You can Trust
Picking the right supplier or gutter installation crew to do your gutters can be tough. Use the questions above to pick out those companies that will waste your time from those that will do quality work in your budget. For the best workmanship and quality materials fabricated in-house, contact JML Sheet Metal. Our crews will custom create your product and install it for you at your home.