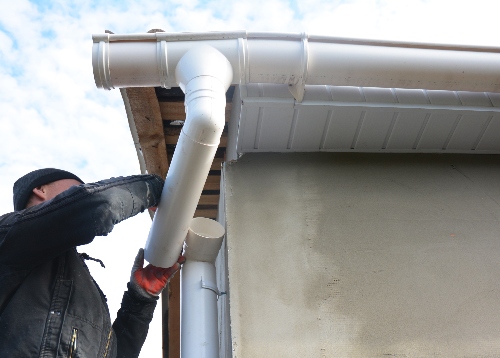 With the hot weather comes the storms. Summer thunderstorms are common in Michigan. When the downpours begin, your home can take a beating. The rainwater is bad enough, but with high winds, branches, twigs, leaves, and debris can be rough, specifically on your gutters. Patching up problems and repairing issues in your gutter system will help prevent further problems from developing in your home's roof or foundation.
It is best to call in professionals to help you care for your gutters. In the meantime, there are a few gutter repair tips we recommend to help protect your gutters this summer.
Tip #1: Support Sagging Gutters
The longer any object stretches, the more tension there is in the middle. If you notice your gutter sagging in the middle, especially to the point of dropping water off the side, you have a problem. Gutter hangers can help you support the mid-section of your long gutters. Gutter hangers are units that can help your gutter avoid crimping. Make sure to get metal hangers instead of plastic ones, which tend to bend or break.
Tip #2: Stop End Cap Leaks
Some gutters get clogged up due to ineffective end caps. When water starts to spill over the edge of your gutters near your downspouts, this could be your issue. If you see that, now is the time to get new end caps. Once you have the new caps, remove the old ones and scrub out any debris there. Use exterior silicone sealant on the inside of your gutter before placing the new end cap in place.
Tip #3: Reattach Loose Downspouts
High winds combined with heavy rain can pull your downspouts away from your house, causing them to swing freely or even bang into the side of your home. If you have this happening at home, downspout straps are your friend. Most hardware stores will have these flat metal strips formed into a U-shape to hold your downspout to your home. Drill holes into your building to firmly attach the straps for long-lasting control.
New Gutters Needed? Call JML Sheet Metal!
Gutters that work and those that don't can make a big difference for your home. The longer dripping, uncontrolled water continues pouring into or below your home, the more extensive your repairs will become. If you have more serious gutter issues, call in the pros at JML Sheet Metal. Our crews will assess your home's need, then fabricate and install your gutters all in-house.